Today marks the anniversary of the death Laika, the street dog that Russians sent into space in 1953. Hours after launch, her vital signs were lost. It is pretty hard not to feel sad when thinking about the poor dog floating around space all alone, dying. But it isn't a fate much better than await the 300 animals that are euthanized in US shelters every hour. And it's not like we spare other animals worse fate in the name of science: think of all the dead chickens who have orbited earth in astronaut's space food lunchboxes.
So, comparatively, Laika didn't have the worst deal. But you kind of have to wonder what her life would've been like if she had returned. She probably would've been, like, the Carl Sagan of dogs, but without the ability to speak. Humans would come far and wide to look to her for wisdom. Was she looking at you meaningfully because she understood the cosmos or because she had a full bladder?
Ruminating on Laika while wandering the Interweb, I found some pretty cool vintage homages to the legendary space dog. The above image is a stamp issued by the United Arab Emirates in 1971.
This got me thinking of a kind of collection I'd like to start. At least, an online collection–less hard to clean then the actual objets.
Here she is on a Soviet cigarette pack:
And on a bubble gum card:
She also had a starring role on a coin given away in boxes of Krun-Chee corn chips in the 1960s: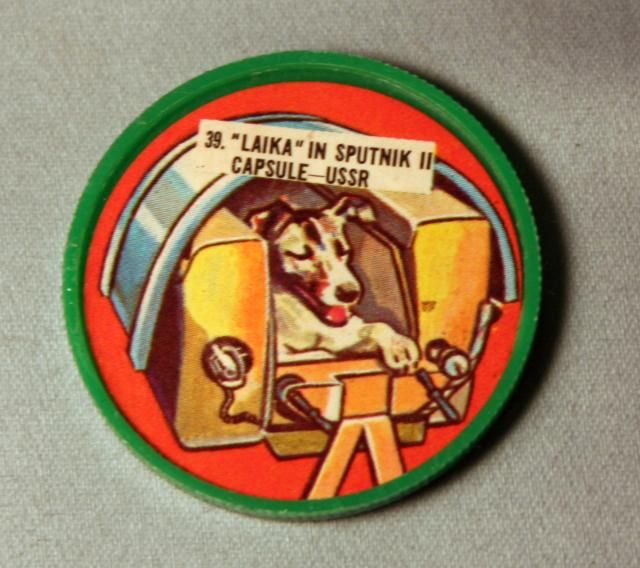 And as a rather unhappy looking silhouette on a retro astroid toy, circa 1958: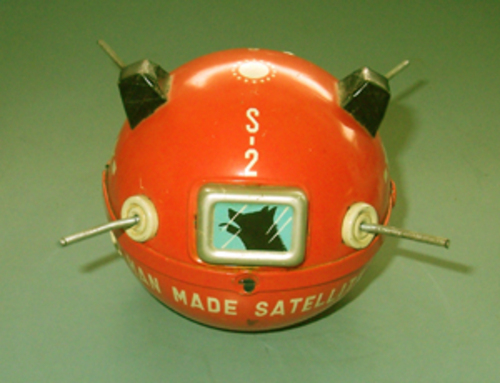 I think I may need to start a collection. Or maybe I should branch out to include commemorations of all the dead animals who died in space! Then again, we're all are technically in space. So that might be making things too broad.